Featured Image: Swaziland's 2nd AMFCC Part-time Graduation Ceremony. Read More.
---
Dear Friends,
UNITED KINGDOM
UK National Big Sunday
It was an extraordinary and glorious day at Ezekiel Guti Convention Centre in Birmingham as our very own mother, Archbishop Professor Eunor Guti, stepped her foot in our nation. There was an unspeakable joy in the nation as more than 2500 people came to the National Big Sunday to see and hear from our mother. Over 500 people were also glued on Facebook watching and following up the service. There was great excitement and energy as ministries were given the opportunity to sing, dance, and welcome our mother. You only needed to be there to see how much our mother is loved by her children in the United Kingdom. Our mother, taught powerfully the word of healing and deliverance that sets people free from bitterness and unforgiveness drawing from the book 'Precious Things' by our father, Archbishop Professor Ezekiel H. Guti. She encouraged parents to take their children to KMD, teach them the word of God, and have time to pray with them. Mama also challenged everyone to be a soul winner and used her own personal testimonies and the book of History to encourage the GOQ and BOT to preach to their peers and win souls. Again, our mother encouraged all the new arrivals from overseas to step up and continue doing the work of God establishing assemblies wherever they live in the UK. She encouraged the church to guard their salvation and embrace the nature of God through reading the word of God and working hard on their salvation to exercising self-control, forgiveness, patience, and endurance. Indeed, the word was received and challenged many of us to live and learn from the life of our father, Ezekiel H. Guti. Dr. Winston Jaricha then came and shared powerfully on the Kingdom of God and ministered healing and deliverance. Over 50 people came to be delivered from bitterness and unforgiveness. There were 7 people who gave their lives to Jesus Christ. At the end of the service, our mother Archbishop Professor Eunor Guti greeted everyone in the auditorium. We were blessed and overjoyed to shake hands with our mother. Glory to God of our father Ezekiel Guti.
BOT- Boys of Thunder (Boy Ministry)
We would like to thank the God of our father, Ezekiel Guti, who allowed our mother to come into our nation at a time we were also having our Boys Of Thunder physical conference in Leicester, United Kingdom. We were blessed to have Overseer Dr. Winston Jaricha as our guest speaker. There were over 100 young men who came to the conference from across our nation. We thank the God of our father, Ezekiel Guti, for the dynamic speakers with vast experience in different disciplines who shared at the conference including Pastor Blessing Mutingwa. We also managed to put our National BOT structures in place in preparation for great things ahead. There was a powerful move of the Holy Spirit and many crying and being prayed for. Great healing and deliverance took place, and 16 boys gave their lives to Jesus Christ. Glory to God of our Father Ezekiel Guti. We strongly believe that the coming of our mother, Archbishop Professor Eunor Guti, in our nation at this particular time, our ministry, UK National BOT, will never be the same again.
GOQ- Girls of Quality (Girls Ministry)
Under the leadership of National girls Director Overseer Cecilia Zezani, we held a successful National Girls conference. Friday night's main speaker was Pastor Cynthia Maoko, who shared a powerful teaching on friendship— a total of 225 gadgets logged on. Saturday consisted of 260 girls in attendance, were the girls had a luncheon featuring guest artists. Various speakers and sessions covered a wide range of topics such as Mental health, substance abuse, the power of a praying girl, grooming and equitte just to name a few, which provided valuable guidance and wisdom for the girls. There were 35 girls who rededicated their lives to Christ. The conference provided an atmosphere of spiritual revival and renewal, deliverance was ministered. We were also blessed to have Archbishop Professor Eunor Guti join us as our main speaker, of which her presence added a special touch to the event, and her teaching impacted the girls. She prayed a special prayer for a girl child. Sunday provided a unique opportunity for the girls as they were entrusted with leading the national big Sunday Service which was a remarkable way to conclude the conference, the girls presented a powerful legacy explosion in remembrance of Archbishop Professor Ezekiel Guti
SCHENGEN
In Slovakia they had a powerful Sunday service that recorded an awesome attendance of 9 members. While in Poland, Warsaw assembly met as we experienced God's hand at work. They received a powerful message about the power of the Word and believe that their lives will never be the same again. The church is growing in numbers and spirit. They had 46 persons in attendance. In Lublin assembly they had an attendance of 18, with 3 people who attended the service for the first time and have committed to worshipping with them. The preaching was powerful. The word was about fighting bitterness and putting on love. GOQ led the service with a sweet spirit. Indeed the church is marching on.
May the saints pray with us for pastoral presence to take care of the baby church in this Central Europe part.
ROMANIA
We thank the God of our father Archbishop Prof E.H. Guti for the wings of grace that continue to cover us in FIFMI Romania. God has been faithful and has given us the opportunity to ground young Ezekiels in the doctrine and teachings of Forward In Faith. We had a service where Pastor Jeru and Alina taught on the importance of prayer and being a true disciple of Jesus Christ just like how Apostle Prof E.H. Guti was while he was a young boy in Ngaone when he met God while praying consistently. The children received the teachings with joy and are full of the desire to keep growing spiritually. We had 15 children and 5 adults in attendance. We thank God for sister Maureen Madzvova who has just joined us from Forward in Faith Zimbabwe. We continue to have prayers, counselling sessions and Bible studies with the people. We are grateful for your prayers that continue to nourish us for the extension of the Kingdom of God.
MIDDLE EAST
We wish to express our gratitude to the God of our father Professor Ezekiel H. Guti for a life transforming Deeper Life Leadership and Believers Conference that took place from October 26 to 29,in Dubai, United Arab Emirates. It was attended by delegates from the region (Bahrain, Oman, Qatar, Saudi Arabia, and United Arab Emirates) and the international community joined us online. With physical attendance ranging from 330-550. God highly favoured us by sending us DSG Apostle Dr. Steve and Dr. La-Verne Simukai together with Apostle A. and Pastor F. Gudyanga, Pastors Dumi and Coco Mawoyo and Elders Sizani and Ruwa Mhlanga who taught powerfully with wisdom, from the word of God and our father's books. There was great deliverance as many people were set free and healed from fibroids, cysts, tumours, abdominal pain, and other ailments. 6 people gave their lives to Christ and more than 20 were filled with the Holy Spirit. On Saturday we concluded our season for missions and had a wonderful official opening. We received an update of the ongoing work at ZEGU from Apostle Gudyanga and 25 people committed to financially supporting ZEGU. Apostle Simukai emphasized the importance of continuing the legacy of our father and ended the conference by speaking a blessing of the Lord upon the Middle East. We have been transformed.
CARIBBEAN & GUYANA
In Guyana their week began with a potent Deacons/Elders training, and it went on until Thursday when they delved into the teachings included in every book authored by the Apostle Ezekiel Guti. Under the direction of our Pastor Fanuel. While in Belize they kicked off celebrating their 10yrs anniversary of FIF Belize with much anticipated joy and expectation. It was a time of refreshing on the qualifications of being a leader in FIF as read from the Book of Remembrance and Sunday featured powerful testimonies about how lives have changed since coming to FIF. This week 19 persons repented and gave their life to Christ and 2 people rededicated his life to Christ after an array of beautiful soul winning activities. We ask that you continue interceding for region.
MALAYSIA
We once again give glory to the God of our Father Prof. EH Guti for His continued faithfulness in Malaysia. We had a week full of activities. Our midweek meetings were well attended. Then on Friday 20 October we began our word festival online and we had Overseer Thomas Dhewa of UAE, Elder Jackson Chiza from Australia and several local speakers sharing on the topic the Kingdom of God. The attendance statics were as follows Friday 33, Saturday 24, and Sunday 34 and 14 online viewers. This was a life transforming experience and the church was filled with joy and this boosted our level of Missions contributions this weekend. We highly appreciate your prayers and support.
THAILAND
We are grateful for God's continued grace in our nation. The weekly programs went on as usual with a good attendance. On Thursday, ladies came together for a "Pinktober" breast cancer awareness service. 28 gadgets logged in and the speaker was Dr. Madembo who gave an insightful teaching to conscientize the ladies on breast cancer. On Saturday, the youth had a seminar in which 21 gadgets logged in and various speakers were used mightily, including pastors Learnnie and Prim. On Sunday we had a total attendance of 60 people, with 26 attending onsite. There were 4 visitors and one was a Thai national who had time to testify how she was invited by one of the Deacons and would try to attend as often as she could. Bible study was powerfully facilitated by Elder Melody. Later sister Shyline & deacon Katandi taught the word. One person gave her life to Christ, glory to God. Many people testified of the goodness of God they have been experiencing:
One person testified how God had protected his family when his wife faced complications during birth. Both mum and baby are well and healthy.
Another person testified how God has been showing Himself faithful concerning the health of her child who was born with a disability. Her daughter has miraculously been defying the odds, despite what the doctors had said.
Another lady testified how she had been praying for a job in Bangkok and God has granted her the request, she got a new and better job in the capital city.
Glory to God! Thank you for continuing to pray for us as we pray for you.
AUSTRALIA
We want to thank the God of our father for a successful National Youth and Young Adults "Personal Development & Kingdom Wealth Creation Symposium" from the 27th-29th of October 2023, online. In the mood of celebrating the Legacy of our father, the late Archbishop Apostle Prof. Ezekiel Handinawangu Guti, the Symposium's aim was to challenge the Youth to pursue education, develop themselves and get into business. Youth speakers all the way from South Africa, New Zealand, Cyprus, China, and the United Kingdom graced the national Symposium, and they left an indelible mark in the lives of the Youth in Australia. We thank God for also mightily using our Main speakers, Overseers Irvine and Lillian Kombora who also chipped in with wisdom nuggets and practical teachings on running a proper business befitting a child of God. Over 50 gadgets tuned in on the first day rising to 73 on the last day from all over the world. The youth were encouraged and equipped with the personal testimonies and stories of fellow youth and experienced veterans in business and wealth creation. There is absolutely no doubt that the Young Ezekiels and Young Eunors of Australia have been impacted and transformed. Thank you for continuing to pray for us. Long live the spirit and Legacy of our father, who was the Champion and inspirational proponent of Personal Development.
MOROCCO
We glorify the God of our father apostle Ezekiel Guti for His divine protection again after another earthquake in Morocco this week. The believers are all safe.The work continues growing steadily in Casablanca. Pastor Sesedzai had a very successful fellowship with women in Marrakech and Casablanca teaching them various topics from the book The Wise Woman by our mother Archbishop Professor Eunor Guti. The concept of Home Bible Churches is being grasped. The Pastors have been doing home visitations for almost every member having fellowship with their families. Testimonies are being shared after 14 days of Prayer Seminar Online every morning with the theme "Roll Away My Reproach". Senior Pastor Chris shared the Word before prayer everyday and many closed doors are open for some members. Leadership candidates are further receiving practical lessons before being appointed as deacons this week. We have an average attendance of 27 during our Sunday services in Casablanca and 25 in Marrakech. Church registration remains our prayer agenda.
CAMEROON
Douala
Glory glory unto the God of our father Apostle Ezekiel H. Guti. We continue seeing the hand of our God in Cameroun. Our mid week activities continued and we had a powerful Friday prayer at our mission house. We had a great Sunday. 31 people (19 adults, 12 Children) attended service, attendance was affected by heavy rains in some parts of Douala. Bible study was facilitated by Deacon Gaylor Lwamba. Powerful word was shared by Elder Barnabus. We continued with our culture of fellowship after the Sunday service. With heavy heart we bid farewell to our missionaries Pastors W and C Muhana we are grateful for the time we had. We are believing God for a new mission house as our lease is expiring this month-end, we are praying for a bigger place of worship and for the church registration.
Ebolowa
Glory to the God of our father. We thank the Lord for a blessed week. Our midweek services continued. 22 people attended Sunday service, attendance was affected by heavy rains. Bible study was on the topic the Kingdom of God. Powerful message was shared by our resident pastor. We had a visit from the Regional Chief Executive of the national Board of Human Right and Freedom of the South Cameroon based in Ebolowa together with her family after our pastors ministered to her during the week.
DEMOCRATIC REPUBLIC OF CONGO
Glory be to the God of our Father Ezekiel H. Guti who is in control of every situation, in Mbinza assembly, a week was hot where Overseers C.& E. Kisuka and the couple Evangelist P.& J. Chipfakanya were. On Sunday 18 people were born again and one girl was delivered from evil spirits after the preaching from Evangelist Philip Chipfakanya on the power of the Kingdom of God; the home visitation had an impact and two ladies gave their lives to Jesus, a woman of 90 years old also gave her life to Jesus. The Thursday women meeting took place in Kingasani assembly with 19 ladies followed with another one in N'djili assembly with 16 ladies where pastor Joyce Chipfakanya taught about talents. In Masina Evangelist Philip Chipfakanya preached in 2 Corinthians 5:17 and the Spirit of God moved, 6 people received Jesus, 16 people were healed from different sicknesses, one lady was delivered from an evil spirit. Our God is a miracle working God.
SWAZILAND
Hundreds of people braved the cold and rainy weather to gather at Mbabane on Sunday, for Swaziland's 2nd AMFCC Part-time Graduation Ceremony. It was a grant event that was graced by the AMFCC Part-time International Director Dr J. Mlambo and South Africa's AMFFC Part-time National Coordinator, Overseer Dr. E Chizeya. Twenty students graduated and 8 of them are not members of Forward in Faith. Also among the graduates were two Apostles and 2 Pastors from other churches, and the former Cabinet Minister of ICT in Swaziland. The life and legacy of our father Apostle Prof. Ezekiel Guti was celebrated as students testified of how their lives were transformed by his teachings and doctrine which are taught at AMFCC. Our teachers and administrators were also empowered through a seminar held on Saturday. To God be the Glory.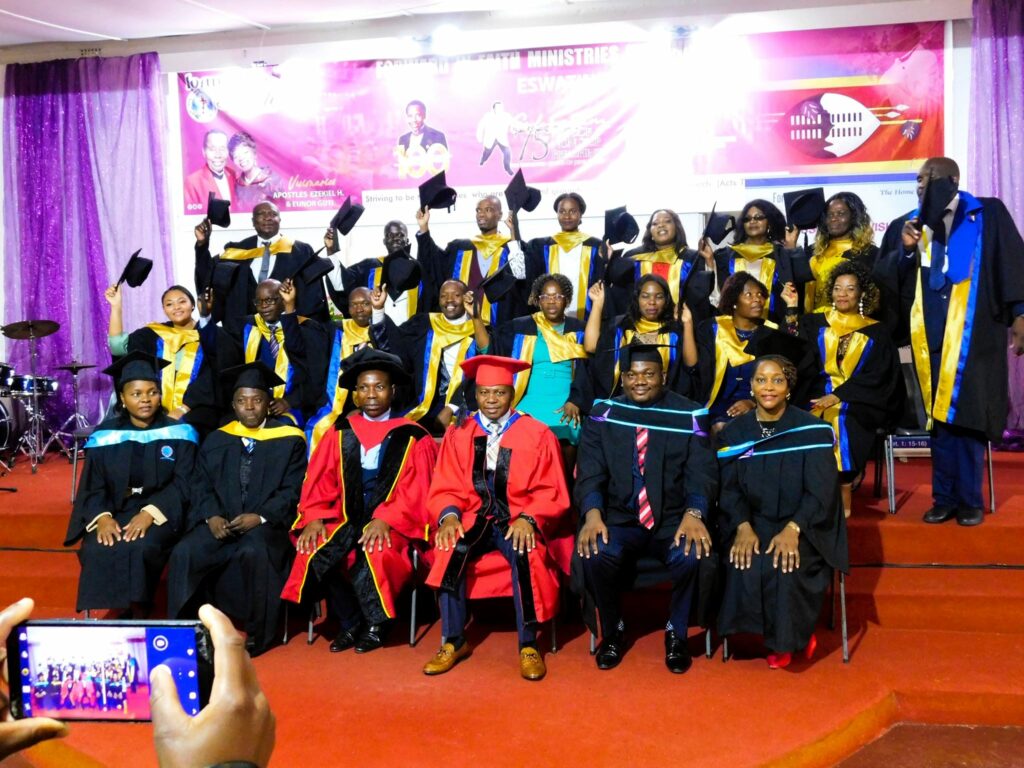 ZAMBIA
We give glory to the God of our father Ezekiel who enabled us as Men of Integrity Ministry to host our first Zonal Conference comprised of Greater Lusaka and Central Province from 19th to 21st October, 2023. It was such a refreshing time as Men met for two days to be taught and reminded of their roles and duties through powerful speakers through the books written by our father on key topics i.e., Prayer, Domestic Leadership, Financial Management, Entrepreneurship. Our National Administrator Rev. Godfrey Chipoya shared on wiseman as a role model in a family. We give glory to God for such a life transforming conference
ZIMBABWE
Youth For the nations
ZAOGA Youth for the Nations Zimbabwe held a power packed National Youth 2023 conference themed 'SEE THE LIGHT & FOLOW IT!'. The auditorium was filled up with youths (over 7000 youth attended the conference) with an electrifying presence of God ready to heal and deliver His people. The spirit of joy was evident as youths continued in the legacy of our father through the working of the National Youth project dubbed Sangena Isixha and an eye catching display of different regalia. The panel of speakers, including Bishops Kapandura and Rupapa, delivered life changing messages which left the youth encouraged in all aspects of life. Our father, Apostle Dr Joseph Joe Guti strengthened the youths as he reiterated that the church is not going to come to an end. He cautioned the youth to stay away from pride, the love of money and the love of men and women. He urged the youth to continue in the vision and understanding the books of ZAOGA FIFMI so that the pattern is not diluted. His main scriptures text was Philippians 4:9 and Luke 16:15.
Chikombedzi
The Travelling Teachers Ministry conference ran from the 20th-22nd of October 2023.The travelling teachers ministry secretariat board members and the Director travelled all the way to Chikombedzi province through the invitation of the provincial overseers S and M Goso. This invitation came after a realization that the ministry had last been to the province nearly ten years ago. There were six centres across the province which were covered during this deployment. The were extensive teachings covered. A total of 18 new converts were added to the church across the province. We give glory to the God of our father Prof. E. H. Guti as the teachings became practical through the demonstration of the power of God as more than 34 were prayed for with deliverance taking place and faith clinics were conducted in some places with people making confessions and being helped by the team of teachers. One notable miracle happened at Chibwedziva region where a certain lady who had a swollen leg was prayed for and she received complete healing with her leg becoming normal. Many believers testified that they were greatly helped by all the subjects that were taught. Truly Chikombedzi province will not remain the same after such a successful teaching conference which helped to ground and root the saints in the doctrine of their church as well as bringing revival and understanding to both our old and new believers.
FAMB
We are overwhelmed by the doing of the God of Ezekiel. FAMB (Families Builder Ministry) held a powerful National Leadership Board Meeting cum Annual General meeting on the 27th to the 28th of October 2023 at ZAOGA FIF Msasa Local Mother Church in Kwekwe under the leadership of International Directors Reverends Hilary and Jestina Nyakutya. The meeting started at 12pm with a session for Pastors only. 34 pastors managed to attend. Powerful teachings were delivered. In the evening Elders, Deacons and other Famb leaders joined the Pastors for ministry National Leadership Board Meeting. Attendance rose to 187. The meeting was graced by FAMB Ministry Advisors, Bishop Mutingwa and Amai who were part of the speakers. He spoke powerfully on leaders being aggressive in order to achieve things and challenged them to explore big projects that make the ministry visible. Overseer Mazuruse, the ministry Overseer also attended the meeting from Friday to Saturday. We also had National FAMB Director for Zambia Overseers Masikini as part of the special guests. The hosting Kwekwe resident Overseer Dr H. Nyakonda was also one of the speakers. The attendance rose to 234 delegates on Saturday. There was great jubilation as our father, Apostle Dr Joseph Joe Guti came in the auditorium. He shared on leadership being stewards of the church and catching the spirit of the ministry. There was great impartation and healing. We are looking forward for the fruits of this life transforming event.
Zengeza
We thank the God of our father for a power packed Night of Worship and Deliverance held on the 27th of October at Zengeza Local Mother Church with more than 900 attendees. People thronged the venue from different Cities across Zimbabwe, namely Bulawayo, Kwekwe, Chiredzi, Victoria Falls, Beitbridge, Mutoko, Mutare, Chipinge, only to mention a few. Amongst attendees were Overseers M and I Masango, Student Pastor F Shorai and Evangelist A Mavhunga as the Speaker. She taught about the Kingdom of God and indeed we witnessed the Kingdom power with instant miracles. 11 people gave their lives to Christ. And many were delivered from different infirmities and diseases which includes cancer, barrenness, poverty, marine spirits, period pains and molesting spirits. 27 people were healed instantly from broken legs and other problems related to legs. The Evangelist concluded with praying for those in need of marriages and financial breakthrough. Our lives will never be the same again

Kambuzuma
Under The leadership of District Pastors Andrew and Mavis Masocha, Our Regional Pastors, Tamuka and Raviro Mutinhima were mightily used of God at a Revival held from 25- 29 October. It was attended by more than 120 congregants daily. The Christ-centred gospel encouraged, revived and delivered the congregants. 9 people gave their lives to Christ.
The Spiritual atmosphere set by the word preached resulted in a mighty demonstration of the Divine power of the God of Ezekiel as evidenced by several testimonies to mention but a few:
A woman whose husband had non-stop hiccups for a week was prayed for and the hiccups stopped that very night.
An elderly woman and a certain man were both healed of backaches that had troubled them for a long.
A young girl was counselled and delivered from lesbianism. Another girl was delivered from marine spirits that tormented her.
A girl who had dreamt of being hurt on her arm and woke up only to find her arm with fresh scars and experiencing body weakness and heaviness in the arm was delivered.
A lady who had intestinal surgery felt healed and was able to walk on her own and attend the services till the last day.
A woman who had a gastric acid problem and a girl who had constant headaches accompanied by a bleeding nose was also among the several healed.
The congregants were also taught how to stay free after their deliverance. The Revival was joyfully concluded by the word on moving forward, walking within the parameters of the covenant that God had with His Apostle and servant, Ezekiel Guti: Fear not sin not. Glory to God Almighty
Zimre Park
We thank the God of our Father Ezekiel Guti for the abundant grace He showed us from the 27th to the 29th of October 2023. Special thanks to our District Pastors Gift and Rachael Tembo, together with our Regional Pastor Dr. Gamuchirai Mutanda, for arranging us such a power packed and life transforming weekend, which started on Friday with a practical Deliverance and Revival night, with Evangelist Eriah Chibvongo. People came from all walks of life, some from South Africa, Australia and around Zimbabwe. Saturday was a very busy day people coming for counselling during the day and then in the evening there was a Couples session where the Evangelist was ministering to the people. Total attendance was 290. A total of 20 people gave their lives to Christ. Outstanding miracles:
3 people were healed from fibroids.
8 people were delivered from anti marriage spirit.
37 people with moving things in the body were delivered.
One person who was losing blood through witchcraft was delivered.
2 couples who used to lose their children through premature death were delivered.
150 people received one on one counselling and prayers.
29 girls who want to get married were prayed for.
The Sunday service was also full of jubilation as the whole congregation received teachings on "giving and tithing" the teachings were extracted from the book of History and followed by outstanding giving towards the purchase of a bigger church stand for the region.
P.S
Please be advised that our office will no longer be accepting Apostles Update reports sent on WhatsApp to the number +263 777 28 20 92. To ensure the publication of your report kindly email it to [email protected] by 1pm (Central African Time) on Mondays.
Kindly note we are requesting you, where possible to include photos to accompany your report submission as we will be publishing some photos of the weekly Apostles Update on our website https://fifmi.org/apostles-updates/.
You are welcome to contact our office on +263 775 83 19 21 for alternative arrangements or further assistance.
This week:
Thanking God for our mother Apostle Prof. Eunor Guti that He continues to comfort and strengthen her. Thanking God for the victory He gives her. Thanking God for the continued success of the mission in Chitungwiza.
Thanking God for our father Apostle Dr. Joseph Joe Guti, the SG Apostle Mishael Nyambo, and the DSG Apostle Dr. Steve Simukai and their spouses, that God gives them wisdom and grace as they carry out their assignments.
Thanking God for the peace of Jerusalem. Psalm 122:6 "Pray for the peace of Jerusalem…"
Thanking God for the success of the Middle East Deeper Life Leadership Conference and Believers' Convention held this past weekend.
Thanking God for the Schengen Seminar and Big Sunday to be held in Hannover, Germany from November 3-5, 2023. May God anoint the speakers and enable the people to attend.
Thanking God that ZEGU continues to excel and that the vision is fulfilled as God gave to His servant Ezekiel.
Thanking God for His intervention in the Mount Pleasant Heights church issue. May God give His people victory.
Thanking God for protecting the saints in India and Pakistan. May He send angels all around them. Thanking God for a rainy season with no flooding in India and Chad as God watches over His people.
Thanking God for Home Talents (Kingdom Wealth Creation) that everyone will have something tangible to show as a result of the covenant that God made with His servant Ezekiel of which we are beneficiaries.
Thanking God for giving success to the long-term and short-term missionaries. Thanking God for providing suitable meeting places and favorable prices as the FIFMI churches continue to grow. Thanking God for the registration process of FIFMI Thailand, Egypt, Morocco, Romania, Cameroon, Slovakia, and Poland.
Thanking God for your nation.
TEACHING: PART OF BABA & AMAI'S MESSAGE
An excerpt from the History book
"What makes this ministry unique? What is the secret?
We preach the full gospel of Jesus Christ followed by signs and wonders. This is the secret of the Book of Acts. They preached the full gospel with, Christ being centred.
They were anointed and filled with the Holy Spirit.
They knew the power and their authority to use the name ]esus.
Therefore I say preach the word; it will prevail. (Acts 19:20, Acts 6:8; Acts 12:24).
The word, the Holy Spirit and the Name Jesus is the secret…" God bless you.
We love you and are praying for you,
Apostle Drs Steve & La-Verne Simukai
ZAOGA Forward In Faith Ministries Int.
+263 777 282 356, +263 777 282 092
[email protected] | www.fifmi.org